Dear friends & clients…
…from April 8th we will be back for you! Due to the increased costs, we have decided with a heavy heart to increase our menu price to €69 per person. We hope for your understanding and look forward to seeing you.
---
Prime quality
Indulge yourselves in a 5-course menu created by Felix and his team and which changes every day. His menus are a mixture of grandma's traditional dishes combined with international and star cuisine using local and seasonal produce.
Young guests are always welcome to choose something from the menu, however, Felix is always more than happy to create a delicious pasta dish.
Looking forward to your visit
Sarah and her team will take care to provide that special "feel-good" factor. From their wide selection of the finest island and mainland wines, she will find the perfect one to go with your meal.
The Es Pati team would appreciate if, when making a reservation, guests could advise them of any food preferences, such as vegetarian, or of any food intolerances or allergies.
---
Menu
We create a new 5-course menu for you every day. Let yourself be inspired: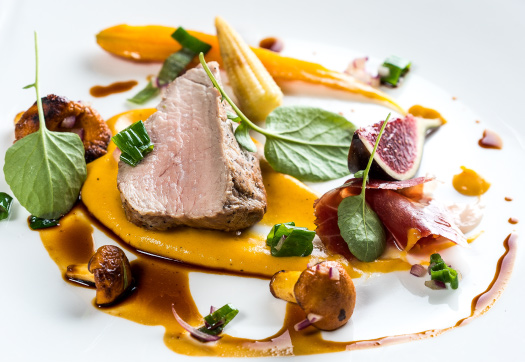 Example menu for 69, – €
Smoked parsley root soup
Crispy gamba with beetroot pomegranate salad & cardamom
Veal spareribs with oriental mango couscous & sprouts
U.S. Tenderstrip of beef with a herbal crust, truffled cabbage & cauliflowerparmentier
Rice pudding with tandoori strawberries & passionfruitsorbet
---
Reservation
Contact
Es Pati
Carrer Soler,
2207530 Sant Llorenç des Cardassar
Opening hours
Mo — Sa  7 pm.
Sunday   Closed